3 incher's


Here we go with some three inch trolls, send me some pictures of your favorites if you would like them posted here!



Below is a three inch Dam troll with blond hair and blue eyes. Trolls with blue eyes are very rare compared to the standard brown, gold and green. This troll is dressed in her bedtime clothes. To cute to be a troll, yuck! The tips of her hair are darker in color than the rest of the hair.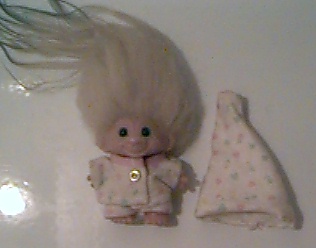 These are cheerleader trolls or Eskimo trolls by Dam. They have molded painted bodies. The also come in a larger six inch size.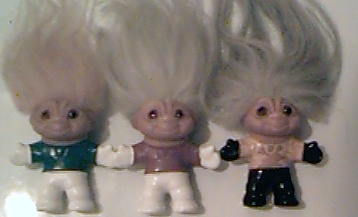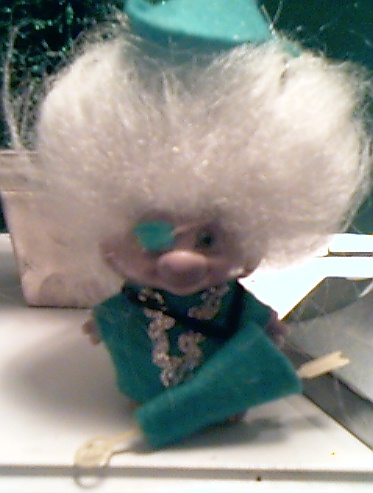 I believe this is Robin Hood, I don't know for sure, I have never seen one like it. It is a Dam. This little guy has
a green hat with a yellow feather; green suite with gold lace; bow and carier and only one eye! There is nothing underneath his eye patch. He has a nice full head of islandic fur (sheep hair). If anyone knows a bit more about him please let me know. THANKS
Super hero's. Batman is on the left. He is unmarked and made of a very hard rubber plastic. Bat girl, on the right is a wishnic as indicated by the horse shoe marks on her feet.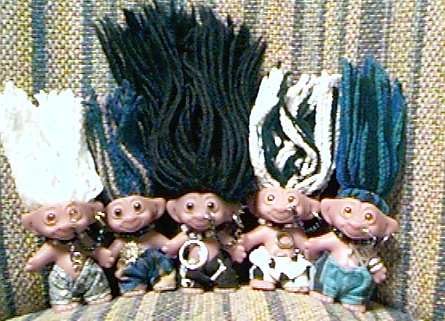 Kewl, they are trolls made by RASTA CO. of California. They have the most awesome outfits. Some have peirced eye brows. Some have peirced belly bottons and toes. Many of them seem to have nose rings! Their hair is Yarn but very well made and intact. I beleive the yarn resembles dread locks. I found these guys at new age shops and on the board walks of Jersey and Deleware. They sold for about eight to ten dollars, I'll bet that price will double or triple in the years to come when people can no longer find them. Grab them if you see them!!
People are reffering to these trolls as "moon" trolls. They are marked 1964 L. Khem/ PAT Pend. on their feet. They have a flap on their backs. This flap has been referrred to as a "flat peanut" by some of the troll books. Some came dressed. The guy on the left is dressed as a caveman. I beleive it's original because I saw another one like this in a clear unopened container. Doesn't seem to match though, an alien in a caveman suit?? They also come in a larger size (not pictured). They are sought after by troll collectors, especially the large ones. I do believe that some of these were sold with a wand with a moon on top. It would be nice to know more about them but at the time this is all I know (Bad Goblin King).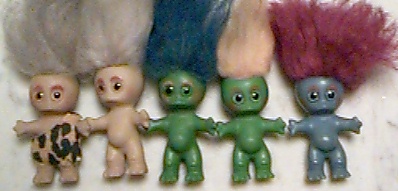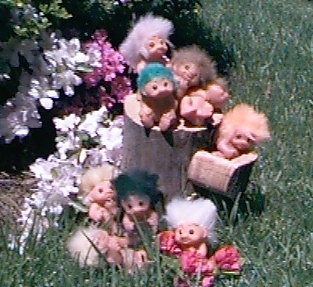 Here are some baby trolls made by the Dam Company.
Newer Dam troll compared to an older Dam troll .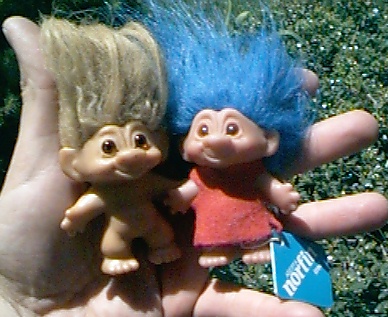 Of coarse there are also three inch Dam Animals.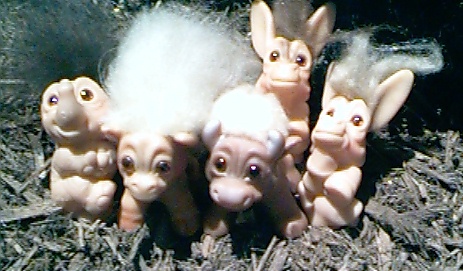 And here are some various newer and older Dam trolls.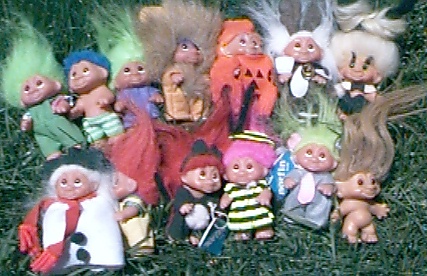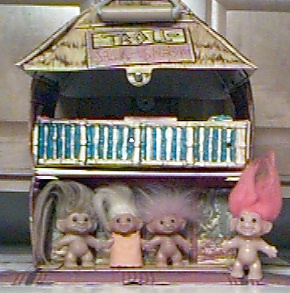 Ideal made this and several other troll houses. This is called the "stik shack" It is shown here opened. There are two sides. The other side has a beach scene and when it is closed it looks like a big shack house. It is harder to find than the other ideal houses. I beleive its value is about 75 dollars.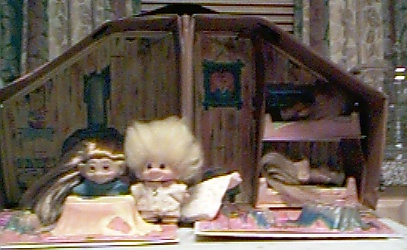 Here is the ideal "Shanty Shack" . It is more common than some of the other troll houses, value is 20-40 dollars. All of the older troll houses were made for the three inch size trolls.