Welcome
to the
" More on Dam trolls"
page
Thats right, lets get started. What do you think about these viking trolls?
the troll on the left is wearing a viking costume. He is newer and can still be bought. The guy next to the left is an old time favorite of troll collectors. He is marked "DAM THINGS C 1965" these trolls have sold for various prices over the years. I got him for 50 dollars, but I have seen them sell for over two hundred. If you find one mint with a tag (red plastic wrist tag) or one still in it's box the price will go up. Now the next two guys are called Bjorn and nute! As you can see Bjorn has the same face as the vintage one and nute just has a different face mold but the body is the same. Bjorn and Nute are slightly smaller than the original and are new. Interestingly although they are new they still bare the date "c1965 Dam Denmark" on their left foot. Non troll collectors might think these two new trolls are vintage but they are not. They are however, still very kewl and an instant trophy for your collection.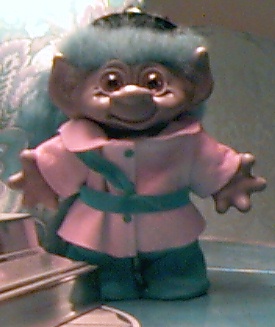 Here is another vintrage black troll by Dam. This troll is a bank and has a slot to put in coins in his back. His pants are original, however his coat has been replaced. Even still he is a super rare find. I bought him in Canada and I beleive he had a partial Monunted Royal guard outfit on him. As mentioned on page one prices for black trolls that are vintage keep going way up. Even in this incomplete state I paid hundreds of dollars for him.
The trolls pictured above are diferent. I beleive the larger one was a "remake" of the old 60's style. The little one is new to me. I purchased him receintly and have never seen one like him. He is simular to the bigger troll and so I have photographed them together. He is interesting because his hands are down (they are usually up) and he is a rare size. He is also unmarked but appaers to be a Dam. The larger trol on the right is marked Dam. They both have that "norfin"era look and feel to them.